TCUS - DIY Floral Design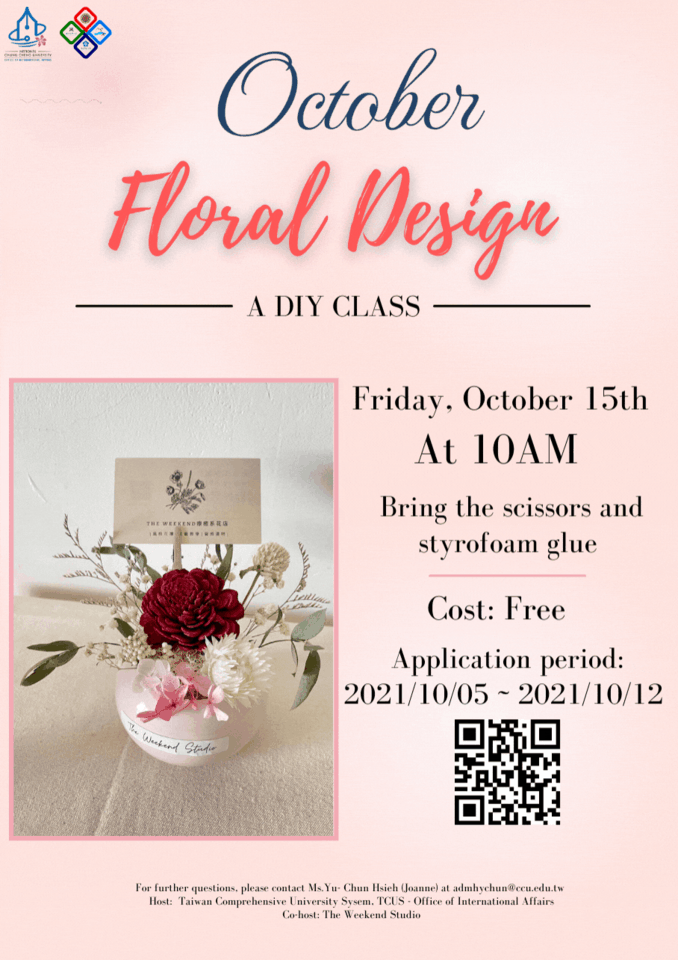 Free Online Workshop sponsored by Taiwan Comprehensive University System(TCUS)
Theme: DIY Floral design
Date and Time: 10:00-12:00 a.m. on Oct. 15 (Fri.) The workshop will start at 10:30.
Registration time: 2021/10/05 - 2021/10/13 17:00
(Quota limited. Registered under a first-come-first-served basis)
Location:
NSYSU-- College Academic Building 5F 5008 (IR5008)
NCHU-- Teaching Complex Building 1F (Y101)
NCKU-- Yun-Ping East Building 4F, third conference room
CCU--Office of International Affairs 2F

In order to prevent the COVID-19 Pandemic, this workshop will be hold online at your university.
Students should stay in the location at your home university and the teacher will teach online.
Please prepare the scissors and Styrofoam glue by yourself to arrange the flowers.
We will send e-mail to those who have registered successfully.

For further questions, please contact Ms. Yu- Chun Hsieh (Joanne) at This email address is being protected from spambots. You need JavaScript enabled to view it.
Host: Taiwan Comprehensive University System, TCUS - Office of International Affairs
Co-host: The Weekend Studio