【TCUS Event】Coffee Culture in Indonesia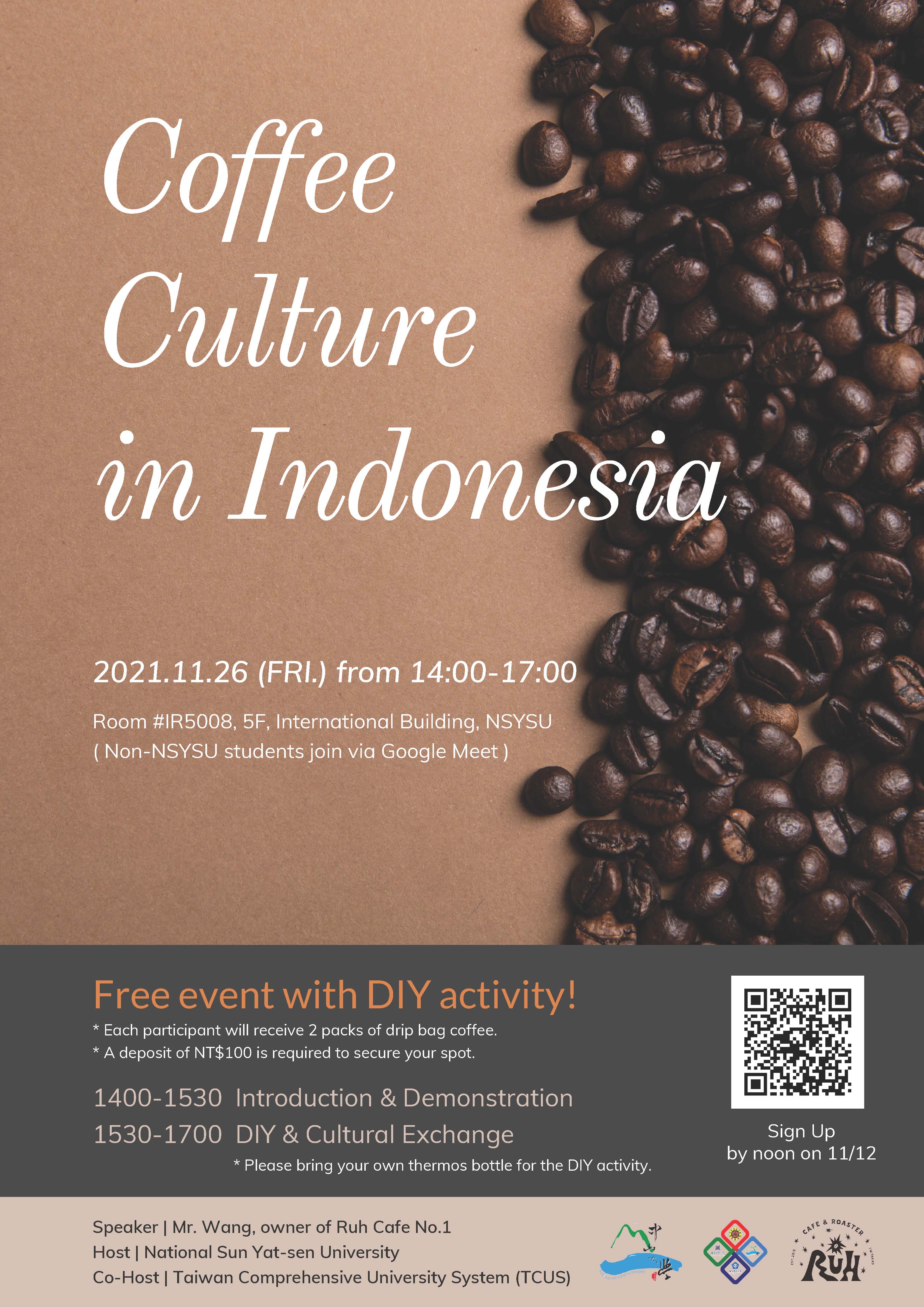 Host: National Sun Yat-sen University
Co-host: Taiwan Comprehensive University System (TCUS)
Speaker: Mr. Wang, owner of Ruh Cafe No.1

(FREE event with NT$100 deposit to secure your spot. Deposit will be returned at the event.)
30 participants per university only, so invite a friend and sign-up before noon on November 12, 2021.
Date & Time: 2021.11.26 (FRI.) from 14:00-17:00
Target students: Students from NSYSU, NCKU, CCU, and NCHU
Schedule: 14:00-15:30 Introduction: Indonesian coffee culture and demonstration
     15:30-17:00 DIY & Cultural Exchange (2 participants per group)
Venue: Room Y101, Teaching Complex Building, NCHU
Registration:
(Step 1) Invite a friend from your home university of different nationality;
(Step 2) Fill out online registration;
(Step 3) Pay for the deposit before noon on Nov. 12 at OIA of your home university to complete your registration ( NT$100 per participant ).

Important notices:
Please pay deposit NT$100 to OIA Office within 3 working days, after filling in the registration form.
* To ensure participants' rights, the deposit is non-refundable with a cancellation email notice received after 23:59 on 15 Nov. 2021.
* Each participant will receive 2 packs of drip bag coffee with Indonesia & Taiwan coffee beans).
Notice:
- Seats are limited so early registration is strongly recommended.
- In following the COVID-19 prevention measure, cups or mugs will NOT be provided at the venue. Please bring your own thermos bottle for the DIY activity.
- For further questions, please contact Yvette via e-mail at This email address is being protected from spambots. You need JavaScript enabled to view it.. or Yuhusan Chang (This email address is being protected from spambots. You need JavaScript enabled to view it.)