The College of Engineering of National Chung Hsing University Made An Agreement with the University of Cincinnati for Dual Master's Degree Program
Media Relations Division of Secretarial Office, NCHU Reports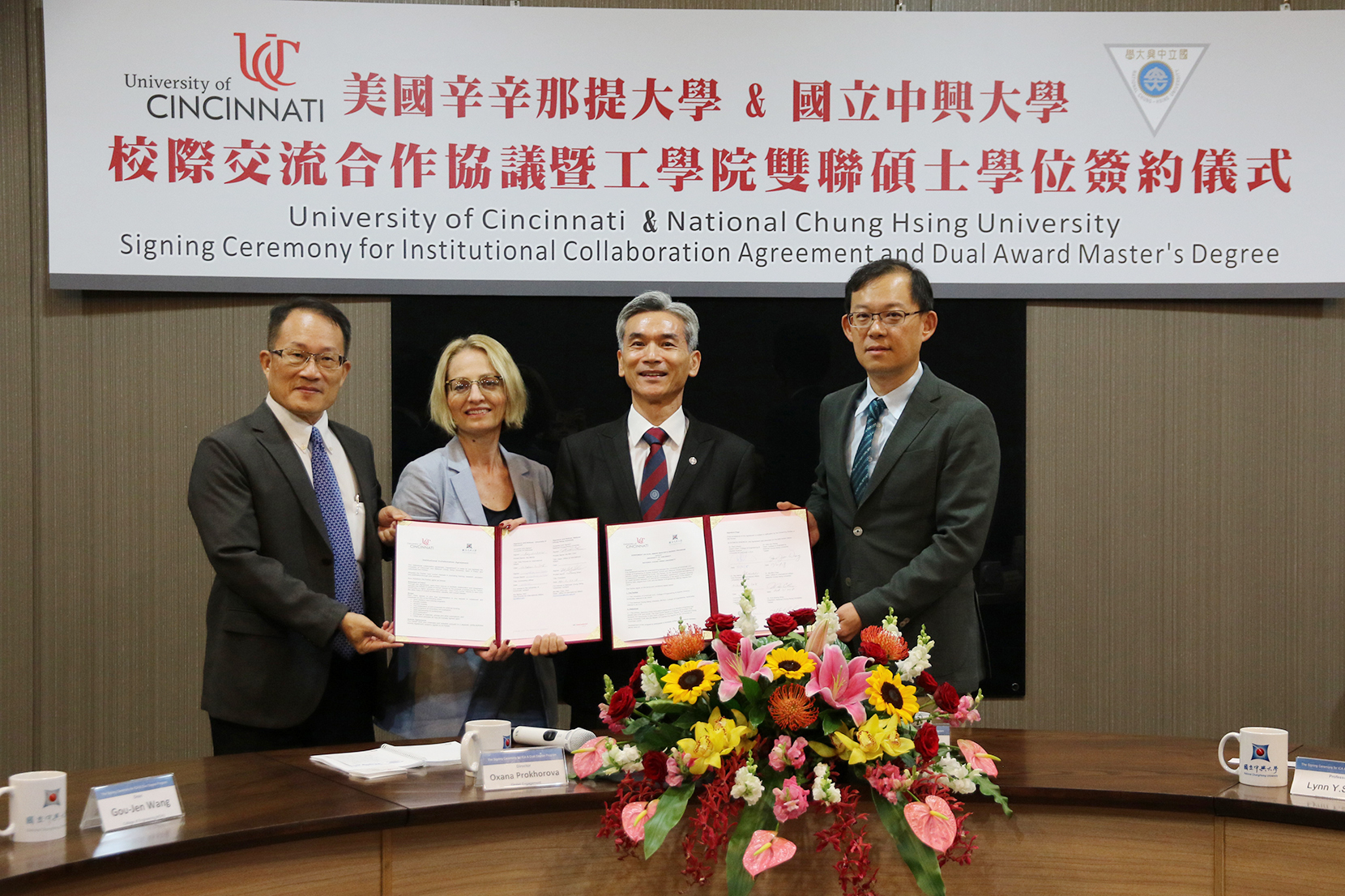 The College of Engineering of National Chung Hsing University (NCHU) and the University of Cincinnati (UC) made agreements for promotion of international exchange and cooperation and dual master's degree program on November 2, 2018. Through the double degree program, the students will have opportunity to earn two master's degrees. The College of Engineering, NCHU is the only one comprehensive university to partner with the College of Engineering and Applied Science, UC in having an agreement of dual-degree program. Department of Civil Engineering, Department of Environmental Engineering, Department of Mechanical Engineering, Department of Material Science and Engineering, Graduate Institute of Biomedical Engineering, and Graduate Institute of Precision Engineering are participating in dual-degree program with the UC. Also, the College of Electrical Engineering and Computer Science will plan to contract with the UC. The program scope is completely integrated that always maintains its leading position among universities in Taiwan and also provides students with the best and well-structured pathway toward internationalization.
The agreement was made by and between OXANA PROKHOROVA, Director of Global Engagement, College of Engineering and Applied Science, a representative of the UC and Shieu, Fuh-Sheng, President of NCHU, Chen, Mu-Min, Director of Office of International Affairs, and Wang, Gou-Jen, Dean of College of Engineering. The heads of departments also participated in this ceremony for dual maters' degree agreements. Meanwhile, the visiting professors of Department of Applied Economics who support and promote the cooperative partnership between two universities and Lynn Y.S. Lin, the President of Lynn Y.S. Lin Consulting Inc. attended the ceremony as witnesses.
"Students can apply for practical training programs in the U.S.A after being enrolled and studying for one year in NCHU," said the NCHU President Shieu, Fuh-Shen. "The practical training programs will prepare participants for classroom learning and enterprise training that improves the gap between learning and applying. In addition, we would like to give special thanks to Prof. Lynn Y.S. Lin for his great support."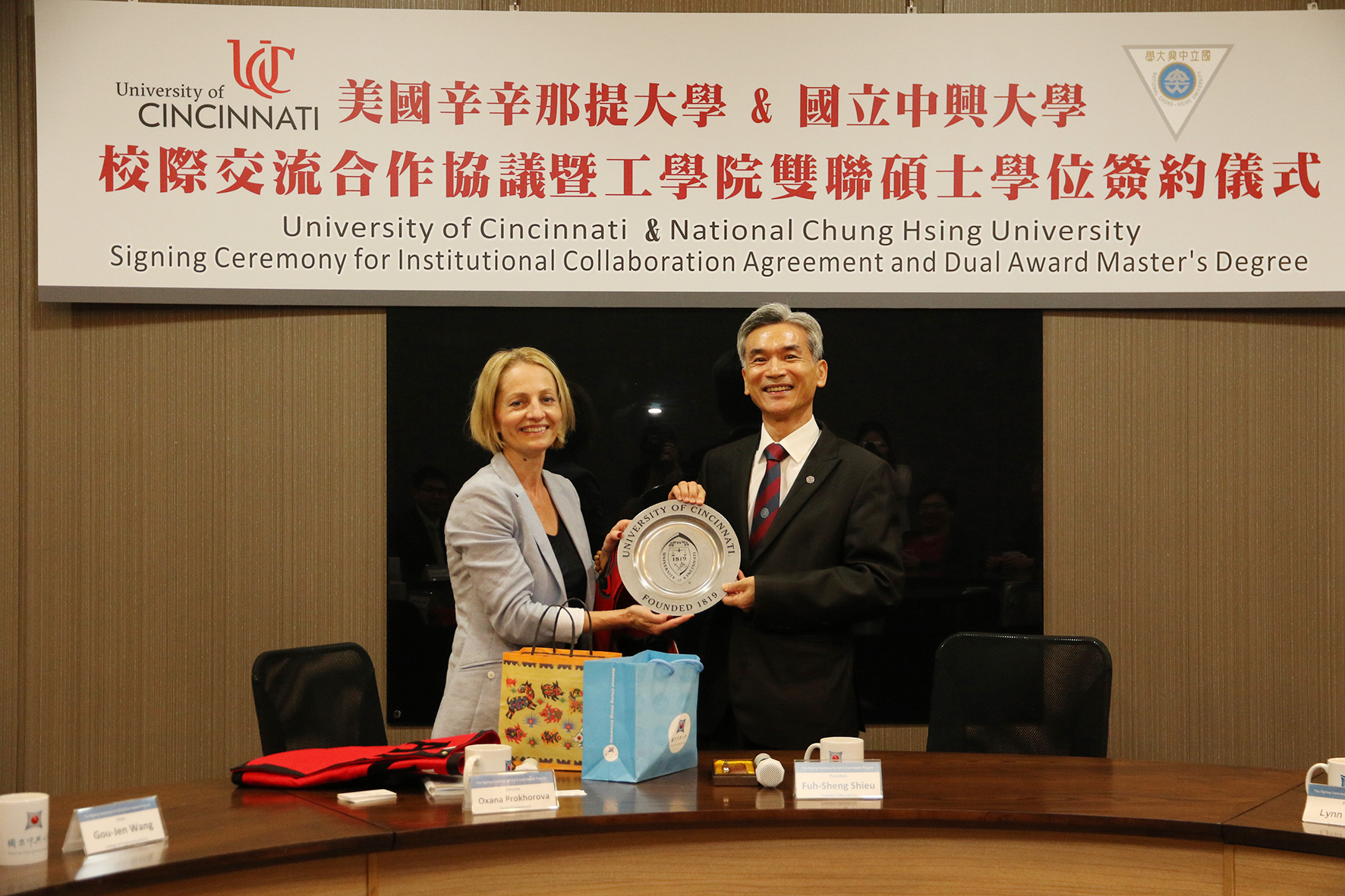 "An agreement made with the University of Cincinnati is advantageous for students in Taiwan," said the Dean of College of Engineering Wang, Gou-Jen. "Students will study in the U.S.A. to take 15 credits (including 3 credits of practical training course which can also be conducted in Taiwan) after having one-year learning in Taiwan in case that they have abilities to make that. Students will get both mater degrees at the same time. Moreover, compared to other dual degree programs in America, the program in NCHU is excellent and gives such a premium opportunity to students."
As to the dual degree program, the students shall study for at least one year before applying for advanced study in each other university. The credits in waiver or transfer will be decided by UC or NCHU you enrolled after completing the courses. Students will get two master's degrees once they met the requirements of graduation, which means students shall pass the courses in the UC and pass the master graduation oral exam in NCHU as well.
The University of Cincinnati was founded in 1819, which is the second oldest public university in the U.S.A. The UC was a top-ranked public university in the Midwestern United Sates reported by Princeton Review and also got good satisfaction rating among international students. The idea of paid internship programs was originated from its College of Engineering, which always gets stable rank among the 20 top universities offering paid internship jobs. It is famous for its excellent academic performance. It would be of great interests for students to have further study in the College of Engineering of the UC by means of the agreements.