Research Center of Humanities and Social Sciences of National Chung Hsing University Held the 1st NCHU Summer School of the Environmental Humanities in Asia
Source: Research Center of Humanities and Social Sciences, NCHU
Translate by Office of International Affairs, NCHU
In view to the effect caused by the ongoing COVID-19 pandemic, the Research Center of Humanities and Social Sciences of National Chung Hsing University determined to hold the 1st NCHU Summer School of the Environmental Humanities in Asia through online. A virtual experience that held from June 28 to July 1, 2021. This is the first-ever international "study camp" in Asia that was held with a theme: "Imagining Nature in the Anthropocene", which is related to environmental humanities. The event was also featured internationally together with the renowned scholars in the environmental humanities including, Professor Ursula K. Heise from the University of California, Los Angeles; Professor Dolly Jørgensen from the University of Stavanger, Norway; Professor Arupjyoti Saikia from the Indian Institute of Technology, Guwahati Campus and; Professor Chia-Ju Chang from Brooklyn College of the City University of New York.

This summer school was organized by the following institutes namely: Research Center of Social Sciences of NCHU, the Research Center for Humanities and Social Sciences of the Ministry of Science and Technology of MOST, Innovation and Development Center of Sustainable Agriculture of NCHU, and the College of Liberal Arts of NCHU. It aimed to provide the graduate students and early career researchers with an opportunity to address these issues together with some of the leading scholars and practitioners in the certain areas of expertise, and to present and share their ongoing projects or prospective research engagements. The University would like to give an appreciation to the Office of International Affairs of NCHU in promoting the event substantially.
The 1st Summer School of the Environmental Humanities in Asia was started by the opening remarks of the University President of National Chung Hsing University. President Fuh-Sheng Shieu stated that NCHU has spared few efforts in promoting environmental humanities research in recent years, and apparently, through this program, a prosperous, fruitful and significant results were achieved. Also, it is a combination of domestic and international resources to respond and to reflect on the topics related to the Anthropocene that would have grown stronger in the near future.
In relation to program theme: "Imagining Nature in the Anthropocene", the summer school invited scholars and experts from different fields to interact with young scholars from local and abroad through lectures, workshops, and project presentations. It is believed that this simultaneous approach of teaching and learning will further reinforce the linkages between domestic and international academic institutions and broaden the horizons of young scholar's awareness to the environment and humanities. And finally, to strengthen their ability in analyzing particular discourses on relevant ecological issues.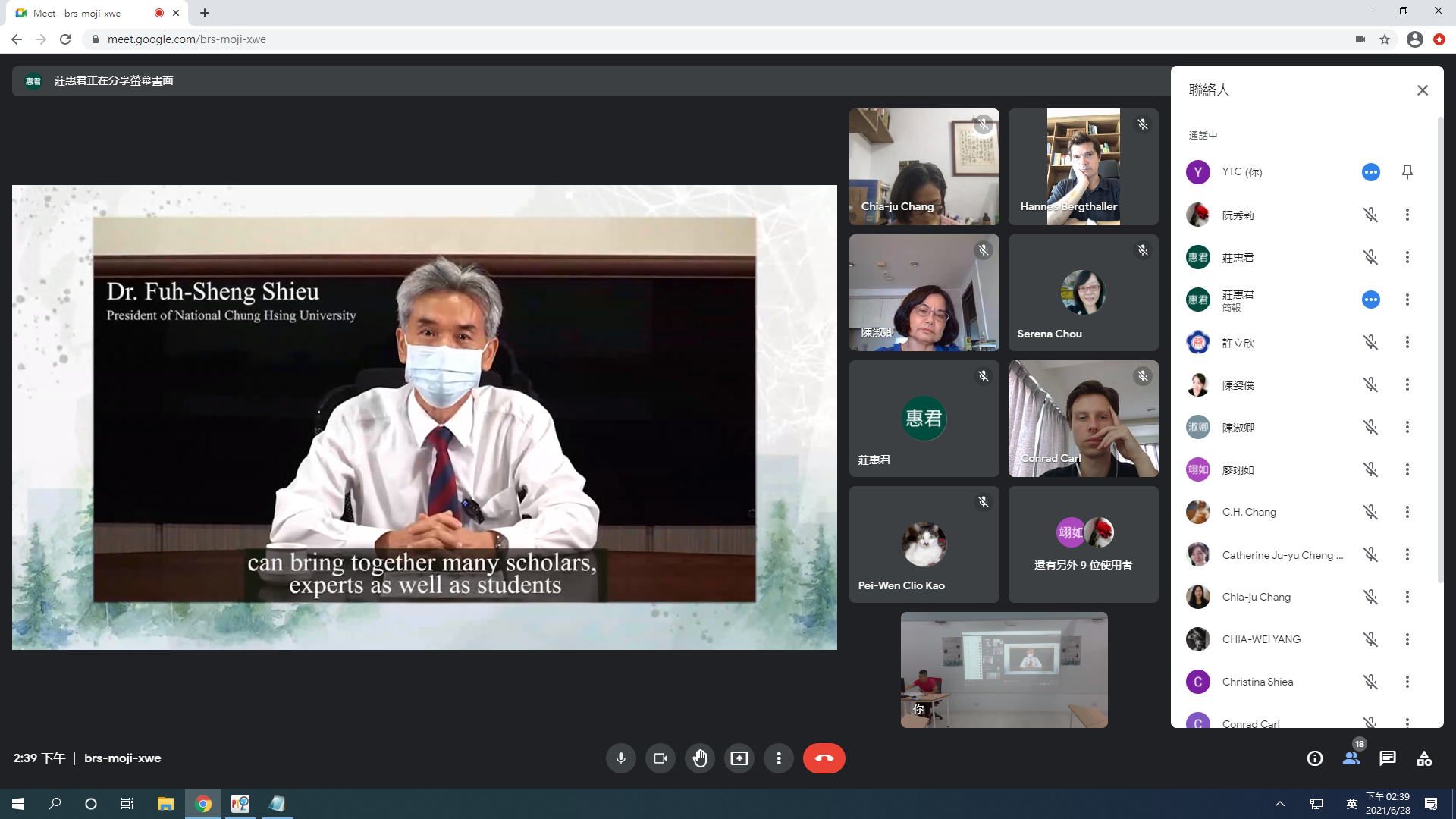 Opening Remarks from President Shieu
Opening Ceremony